Celebration Packages
Our Celebration Packages are the simplest way to organise your wedding flowers.
You may be keeping to a strict budget, or don't have the time to spend making selections, or even perhaps just don't require so much in the way of floral decor, whatever the reason, we have designed some beautiful celebration packages to make things easy for you. We have even included delivery (within 10 miles) in the price.
Our packages are designed using the best quality fresh seasonal flowers and foliage. We will put together a moodboard for you or shared pinterest board so you can send us images and we can style it as closely as possible to what you have in mind, within the budget.
We will need just a few extra details from you including,
♥ The date, time and place of your wedding,
♥ Your colour choices
♥ Delivery address. We deliver to one address (usually where the bride is getting ready) and set up at your venue.
---
Twilight
With twilight and micro weddings becoming more popular we thought it would be useful to have a mini wedding package for those smaller more intimate ceremonies. Of course you can dress this up with more florals if you like for some beautiful photo backdrops, just ask, we have lots of ideas.
♥ A hand tied bridal bouquet
♥ Handtied bouquet for one bridesmaid
♥ 3 Buttonholes
♥ 2 Corsages
♥ Arrangement for the Registrars Table
♥ Decorations for 8 aisle chairs or small jars of flowers for informal table decoration
£350.00
---
Meadow Sweet
We love a rustic wedding and if you are looking for something natural in a garden style, designs with a wild twist or soft meadow feel then this would be ideal for you.

♥ A hand tied bridal bouquet
♥ Hand tied bouquets or flower crowns for 2 bridesmaids
♥ 4 Buttonholes
♥ Table centrepieces for 10 tables - Made in low vases or a selection of small glass vases, jars, bottles on each table, filled with a selection of light garden/meadow style flowers.
♥ Top Table Decoration - Wild style flowers arranged in small jars along the front of the table - or in the middle of a round table.
£560.00
---
Timeless
If you are after wedding flowers with a classic elegant and timeless feel then this is a perfect choice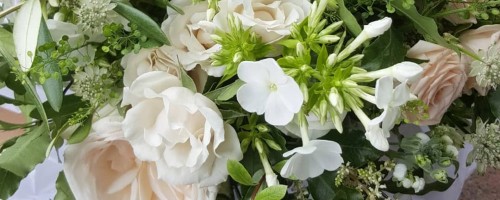 ♥ A hand tied bridal bouquet (shower bouquet available for additional £30)
♥ Hand tied bouquets for 2 bridesmaids
♥ 4 Buttonholes
♥ Table centrepieces for 10 tables - arrangements made in low glass vases or silver or gold low bowls. 1 per table.
♥ Top table arrangement made in an elongated and elegant low design
£750.00
---
Purity
This is a small, neat package concentrating on the more essential wedding flowers for your special day. You still get the fun of choosing your colours and styles you prefer.
This package is only available for delivery within a 10 mile radius of Wateringbury.

♥ A hand tied bridal bouquet (for a shower bouquet add an additional £30)
♥ Bouquets for 4 bridesmaids
♥ 4 Buttonholes
♥ Corsages for 2 guests
♥ Top Table/Registrars table arrangement
£400.00
---
There is an option with
all
our packages to add on items such as buttonholes, an extra bridesmaid or flowergirl etc. Just ask.
We do ask that all our containers (not your flowers) are left for collection by us after the wedding.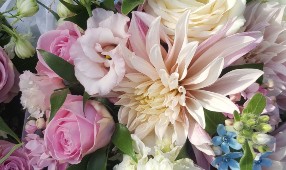 Gallery