Port Lympne Wedding
8 May 2019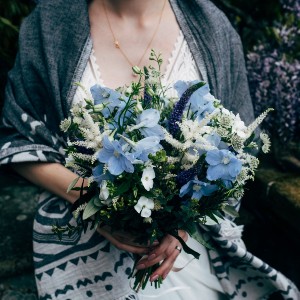 These two lovely people Katri and Lap came all the way down from London to see me on a train and a bus! I was mightly impressed as this must have taken them the best part of half a day but it was a joy to sit and chat through their plans with them. I think this is possibly the smallest wedding I have done with under 20 guests present but I loved their attention to detail and their love of flowers was infectious.
Not all weddings have to be on a huge scale!
The red ranunculus in the buttonhole was to honour the grooms chinese herritage where red is the lucky colour for weddings. There were only a few jars for the centre of the large oval table filled with delicate blue and white flowers and a beautiful floaty bouquet for Katri to carry with delphiniums, phlox and astilbe. These lovely images were taken by very talented photographer Dale Weeks. This was a tiny intimate wedding day but definitely I couple I won't forget.