Winter at The Castle
3 December 2018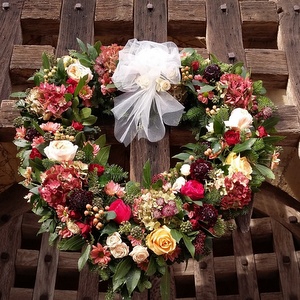 There were so many things to get excited about this winter wedding. When Katie and Darren came to me they had an exact vision of what they wanted. Sometimes this can prove challenging to interpret but this was rewarding and fun. It was so rich in colour and texture, working with the season it was not difficult to bring their vision to life and zing! I am a lover of colour anyway so the combination of reds, burgundy and apricot really appealed to my senses. Katie particularly wanted David Austin roses used throughout, these are definitely sumptuous but dear so I wanted to be really careful to use them in more dominant areas.
Pictures by jeff oliver https://jeffoliver.co.uk
Katie carried a shower bouquet of mixed David Austin roses, 'Darcy and Juliet' with ranunculus, black scabious, astilbe and hypericum berries and her bridesmaid (her sister) carried a similar mix but in a smaller hand tied bouquet style.
They both had flowers in their hair made on a transparent hair comb which sat perfectly into their hair style.
We decorated the portcullis with a beautiful mixed textured heart to welcome guests at the entrance and inside the castle ivy was delicately strewn to line the aisle and mixed with fairy lights.
The Astor Suite was filled with the deep scent of the special roses dressed on silver candelabra with cream candles, classic but timeless and so romantic. Deep red autumnal hydrangea picked up all the shades of red and burgundy.
Katie loved thistles so we placed a single thistle on each place setting napkin, just giving the perfect classy finishing touch to the room.
There were so many pretty elements and little details to this wedding which were fun to make, and I now have so many gorgeous pictures to remind me of it forever.
https://jeffoliver.co.uk Thanks go to Jeff Oliver for many of these beautiful images (although some have been cropped to fit my site).