Private Wedding Nestled in the Kent Countryside
24 August 2019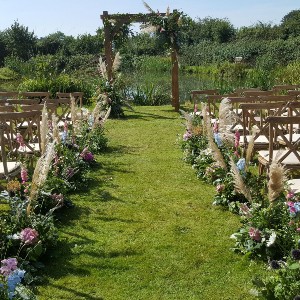 We were so thrilled to have the chance to do this beautiful wedding not least because it was set in the most spectactular private gardens in Kent. On a sunny day nothing could have been more perfect. a quiet pond, a romantic dove cote, breathtaking gardens, set in the grounds of a 14th century manor house.
As well as providing bouquets and buttonholes this job included filling the aisle with wild non structured flowers and decorate a wooden arch that had been specially made for the ceremony. I am not sure what we would have done had the day been wet, this could have all turned out so differently, but luckily for everyone it was a perfect summers day.
Our bride was a pampas grass fan which is so fashionable at the moment so along with delphiniums, allium seed heads, hops dill, daisies, larkspur and thistles we created a gorgeous rustic aisle runner. These have been popular recently and it is easy to see why. They provide colour and a wow factor as well as a fantastic back drop for pictures. They can be moved easily too so can be used elsewhere which I love.
The Arch was decorated in an asymmetrical fashion and completed the picture.
Hops are in season at the end of August so the tables in the tipi were decorated with simple but effective foliage and hop runners.
This must be one of my favourite most fun events to work on this year!