December at Winters Barns
13 December 2019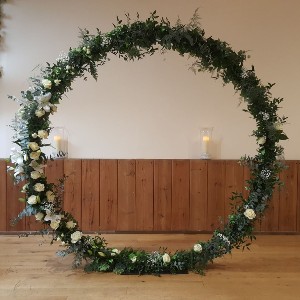 This is a stunning venue full of character in the heart of Kent that I don't get to visit often enough. On this occasion we teamed up with Your Beautiful Day to co-ordinate styling and flowers as part of a complete package. As florists we love a winter wedding, materials, foliages and textures are more important and exciting, there are more twinkly lights, and the atmosphere is more charged and romantic for sure. Victoria was amazing to work with, she just gave us a clear brief with her ideas and preferred flowers and we were able to take it from there. We loved the moon arch Your beautiful day provided for us to decorate, how spectactular that was as a backdrop to the ceremony? With the perfect ice blue sashes, lanterns moss and gypsophila the room was the perfect setting and beautifully co-ordinated for a winter ceremony.
We used cream vintage bird cages from your beautiful day and filled them with mixed winter greenery, cones, lilies (Victoria's personal favourite) roses, thistles, juicy red hypericum berries and ivy tendrils such a feast for the senses.The top table made to match was a delightful wild mixture of greenery, lilies, winter berries, roses all spilling out along the entire length of the table as a glorious centre piece.
Victoria carried a small shower bouquet of her favourite oriental lilies, only ever used for wedding without those staining stamens! Artificial snow white, frosted berries also because we don't want anything to stain that dress, roses, astrantia, thistles, scented freesia, the prettiest pale blue tweedia, lisianthus and tendrils of trailing silver eucalyptus.
I can't wait to see the official photos, what a dreamy December wedding this was to be part of.