Congratulations Mr and Mrs Hawkins
8 August 2019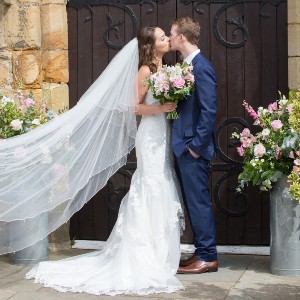 I met these 2 lovely people, Shelley and Jon, quite a while before their wedding as they were super organised and keen to get us booked in early. Normally I expect plans to change quite a bit over time but Shelley had such a good vision of what she wanted that plans stayed pretty stable all the way through making it easy to plan and bring everything together.
Beautiful but simple was the order of the day, flowers in Tonbridge Parish Church that could be transported to the reception, bespoke bouquets and natural table centrepieces throughout.
This beautiful wedding was all in my favourite pallet of light pink and soft greens with an abundance of summer roses, dahlia, scented stocks, hydrangea spray roses and garden greenery.
It was a bitter sweet day as I have enjoyed doing beautiful weddings at Mountains Country House for many years and sadly as of September2019 they will no longer be a wedding venue. The school will be utilising the land for more class rooms etc.
These beautiful images were captured by the lovely Helen England who I love for her true colours and natural, easy images and positive, sunny personality.