Autumn Colours
20 October 2018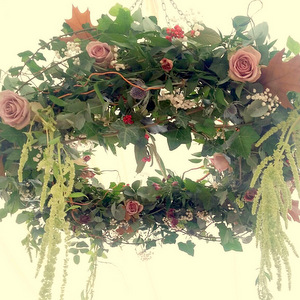 |Autumn offers up such an abundance of colour and texture it is hard not to get excited about creating wedding flowers for an autumn wedding. When Phillip and Darren came to me they aleady knew that they wanted to go with the season and concentrate their decorations more on the rich textures, leaves, twigs etc than flowers. They used their two relatives names Ivy and Rose as their starting point and we made sure we included both into all the decorations.
There were no wedding bouquets or bridesmaids of course so we really focussed on the table decorations and floral chandeliers in the marquee at Nettlestead Place, Kent. This wedding venue is on my doorstep and I love seeing how it can be tansformed in so many different ways. They bought their own glass vases and candles and asked for a low table display around them that would spill a little onto the table. I had fun with a palette of dusky pinks and plums using ivy, chestnuts, rose hips, berries, thistles, seedum, autumn leaves, waxflower and amnesia roses, the depth of colour and mixed textures were so easy on the eye.
We hung floral chandeliers of twigs, moss, berries, autumn leaves and roses from the ceiling of the marquee which took the colour up high and gave a real wow factor that the guys were looking for.
I so enjoyed working with these two, it was such a rewarding wedding to be a part of and something to really get the creative juices flowing.