Frequently asked questions
I have tried to answer some of the most frequent questions that I get asked here. If you don't find what you are looking for though then please don't be afraid to ask....

What are your prices?
All weddings are different and our designs are all created specifically for each couple (although we can create one off packages, just ask) - It is definitely not a one size fits all pattern. Of course we always prefer to meet you to talk through your plans and ideas (and budget) so we can give you an accurate quotation, but we do understand you may like a little more information first. So here we are ......
We welcome all weddings but since we are careful to limit the number of weddings we take and are subject to buying in minimum quantities, we are unable to take on very small orders.
For couples who may be looking for a smaller amount of flowers, a lovely wedding bouquet, pretty bridesmaids flowers, buttonholes and corsages and an arrangement for the top table we suggest allowing around £400.00
For a simple wedding that includes bridal flowers, bridesmaids bouquets, buttonholes with wedding table flowers such as jars, jugs or lanterns perhaps then we suggest allowing £600 - £800
If you are after flower designs that make more of a statement then we suggest a budget of £1000- £1,600 this will give you a lovely bridal bouquet, bridesmaid's flowers, buttonholes and corsages together with top table flowers, chair ends and beautiful table centrepieces and maybe some fresh flowers on your cake?
A budget of around £1,700-£2,500 will give you beautiful personal flowers such as bouquets, buttonholes, corsages, hair flowers etc, table centrepieces and top table flowers together with some additional decorations such as a free standing displays, mantle piece flowers, chair ends etc. For this budget we can add more flowers and make more sumptuous designs.
A budget of more than £3,000 will give you all of the above and more with even fuller more opulent displays and additions of more luxury items such as archways and pillar garlands.
Already have a budget in mind? Then please do let us know at your consultation! It really helps us to know so that we can help you plan designs to keep within it. We really don't want to be quoting you for wedding flowers that are way beyond what you have in mind!
We can give you a more detailed breakdown of prices if you have an idea what what you like - just ask!
Yes. We have designed some lovely celebration package choices for those of you who want an easier option, please see 'information' above.

Do you charge for a consultation?
No. Our consultations are friendly and fun with advice, pictures, information and a cup of tea....but with no obligation!! They are for you to enjoy and a time when you can ask any questions you have. I love to hear your ideas but am happy to help too with inspiration and suggestions.

Do you work alone?
I will oversee your wedding flowers from your first consultation to the end of your big day. I like to be really hands on and I do make as much as I can. Alas, I can't always make everything, so I also have a team of creative, and talented people that work with me, all of whom are equally committed to making your wedding flowers perfect for your special day.

What information will you need from me?
We will need the date, time and place for your wedding. All other information can be gathered along the way and you really don't need to know anything about flowers so don't worry! It would be great to know if you have a colour scheme or theme in mind, colour samples are great and any pictures or ideas you may have are useful but not essential. We have plenty of ideas and advice to get you started.

Do you have more than one wedding on the same day?
We can take more than one booking for the same day but it is strictly limited and we will only do so if we are not compromising our high standards of personal and professional service.

How soon should we be booking a florist?
We recommend early consultations to book your preferred florist as dates start to get booked up a year in advance. Many good florists will limit the amount of weddings they take and prime summer dates do get booked up quicker than winter dates. You don't have to have every detail in place this early, some details and decisions about your flowers can made nearer to your wedding date, but at least you will have security, knowing that you have your florist in place.

Do you require a booking fee?
Yes we normally ask for a booking fee of 20% that will secure your date and confirm your wedding in our diary. Unfortunately we are unable to hold your date unless this is received.

How far do you travel?
All over Kent and Sussex and sometimes further. Depending where your wedding venue is we may have to make a delivery charge to cover expenses, but please feel free to ask us about this.

How do we get our flowers?
We work within your timing requirements to deliver and set up all flowers in plenty of time on the day of the wedding. Timings are all arranged and agreed with you before the day so that you know just what is happening and when. All reception and decorative flowers will be set up for you and checked by me and my team just a few hours before your wedding so they are looking perfect for your arrival!

Can you decorate churches?
Yes absolutely if the church allows this. Sometimes there are rules that the Church likes us to follow so it is worth asking them first to see just what their policy is regarding flowers.

Can you do a mock up of my flowers before the big day?
Yes it is certainly possible but we do have to charge for this service as we will have to order quite a few flowers. We understand this can be a really anxious time so we work especially hard to give you a really good feel for how your flowers will look on the day. We will produce moodboards and even drawings when required, as we feel it is essential that we are all working to the same vision and there are no surprises on the day. Our relationship with our clients is based on trust and we are delighted that most of our brides do feel totally reassured after their first consultation, but if you are not we would want you to tell us. For even more reassurance take look a look through our numerous testimonials on this site and reviews on facebook.
♥ Do you work with faux or artificial flowers?
Yes. Faux flowers are very on trend just now and we feel it gives our customers more flexibility to budgets, allows us to use incredibly beautiful flowers that may be out of season as well as being kind to those with allergies. They can also be reused time and again which has to be more environmentally friendly. This is an exciting new addition to our business this year which we will be developing throughout the year. Do feel able to ask us about the use of faux flowers for your wedding if you need to.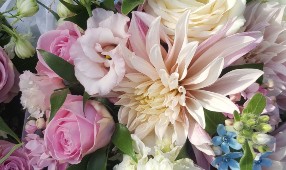 Gallery